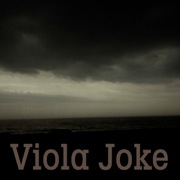 title: Viola Joke
instrumentation: two vaudevillian violists + electronic studio audience
duration: 9 minutes
written in: 2013–14
text: Alex Temple
Viola Joke is a comedy routine that takes place in an apocalyptic nightmare world. And yes, there is a laugh track.

Watch

Doyle Armbrust & Chris Fisher-Lochhead, voices and violists
Live at Galvin Hall, Northwestern University, Evanston, IL, 5.27.16
Video recorded by Dan Nichols and edited by Kristine Mutchler.


This recording of Viola Joke is licensed under a Creative Commons Attribution Non-Commercial Share-Alike license. This means that you can
a) share it, and
b) sample, remix or otherwise transform it
as long as you credit Alex Temple as the composer and Doyle Armbrust & Chris Fisher-Lochhead as the performers, don't use the resulting piece commercially, and license any derivative works under the same terms.