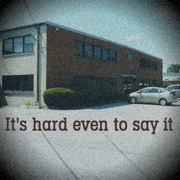 title: It's hard even to say it.
instrumentation: electronic
duration: 6:02
written in: 2013
written with: Jenny Olivia Johnson
This past December, Chicago cassette label, composer/performer collective and theatrical-event producer Parlour Tapes+ released their second album, *AND. Each track on it is a collaboration between an artist who lives in Chicago and one who lives elsewhere. The first track, It's hard even to say it, is the work of me and Boston-based composer Jenny Olivia Johnson.
Jenny and I have known each other since 2007, and we've spent a lot of time talking about the unreliability of memory. For this piece, we each repeatedly recorded ourselves describing a memory that's particularly uncertain and disorienting, and then sent each other the results to be chopped up and reassembled. For the most part, the gritty, lo-fi first half of the piece is mine and the lush, expansive second half is hers, although there are certain things that show up in both parts.
Since part of the Parlour Tapes+ approach involves resurrecting the cassette format, I created a lot of the distortion in my half by recording sounds from my computer onto old cassettes that I've had since the mid-90s, using a boombox that I've had for just as long, and then transferring them back onto my computer.

Listen
If you want to support Parlour Tapes+, you can buy the track, or order the album (cassette and/or digital download), at their Bandcamp page.
You can also download the mp3 here for free.


It's hard even to say it is licensed under a Creative Commons Attribution Non-Commercial Share-Alike license. This means that you can
a) share the recording, and
b) sample, remix or otherwise transform the piece, as long as you credit Alex Temple and Jenny Olivia Johnson for the original work, don't use the resulting piece commercially, and license it under the same terms.
Watch