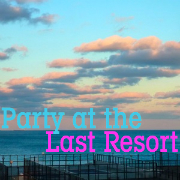 title: Party at the Last Resort
instrumentation: flute, oboe, clarinet, horn, bassoon, piano, violin, viola, cello, bass
duration: 6 1/2 minutes
written in: 2012
Picture this: you're driving along some godforsaken desert highway in California, when you come across a sign for a hotel, all pink and blue neon. Curious, you take the turnoff. You can see it shimmering the distance. And when you get there, you find a place that hasn't changed in half a century. There's a band out by the pool, dressed in pink tuxedoes, and they're playing the same music they were playing in 1962. But after all this time, the music has evolved. Now the rhythms are all off-kilter, the harmonies slightly wrong.
I wrote Party at the Last Resort for Fifth House Ensemble to perform at the 2012 Fresh Inc Festival. It's based a piece I wrote six years earlier, with the slightly more awkward title of The Last Resort Party Band. The new version has less predictable rhythms and a larger instrumentation, and what had been a long, loud, bangy final section has been reduced to a halting, mysterious coda.

Listen
Grace Lai, flute
Fifth House Ensemble:
Crystal Hall, English horn
Jennifer Woodrum, clarinet
Matt Monroe, horn
Karl Rzasa, bassoon
Adam Marks, piano
Andrew Williams, violin
Clark Carruth, viola
Herine Coetzee Koschak, cello
Eric Snoza, bass
Live at St. James Cathedral, Chicago, IL, 6.12.12

Watch


Grace Lai, flute
Fifth House Ensemble
(same lineup as above)
Live at University of Wisconsin Parkside, Kenosha, WI, 6.17.12