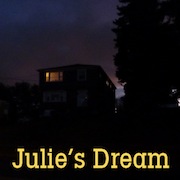 instrumentation: electronic
duration: 4 minutes
written in: 2011
text: Alex Temple
Julie's Dream will eventually be part of a large-scale dramatic work called End. Played in total darkness at the beginning of the first act, it introduces us to the protagonist through an ominous apocalyptic dream sequence. At the end she's woken by the sound of a ringing phone, and the lights will come up to reveal her lying in bed, groggily answering it.
This piece wouldn't exist if it weren't for freesound.org, a wonderful database of Creative Commons licensed sounds. I recommend it to any composer who's interested in sampling.
For more from End, check out Support Group.

Listen
Audio clip: Adobe Flash Player (version 9 or above) is required to play this audio clip. Download the latest version here. You also need to have JavaScript enabled in your browser.