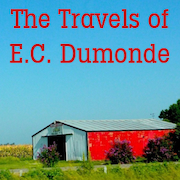 title: The Travels of E.C. Dumonde
instrumentation: voice and electronics
duration: 29 minutes
written in: 2007-8
text: Alex Temple
"It's like 'This American Life' on acid."
-an audience member
When I was 24, I moved to New York, eager for a break from academia. At the time my head was swimming with ideas and images from the work of Laurie Anderson, Miranda July, David Lynch and David Thomas, and I soon started feeling the urge to write pieces that told stories. The result was The Travels of E.C. Dumonde, a live "radio drama" about mysterious occurrences in small American towns — a ghostly riverboat in Mississippi; a town in California where everything has been replaced by an advertisement for itself; a tree with strange aural and optical effects in Washington state; and a cornfield in Oklahoma that somehow seems to be both a wooden rail and an ocean. The music combines minimal electronic beats, atonal synth lines, vocoders, eerie pulsing drones, fragments of 1950s radio ads, and collages of cheesy samples. It also got me performing again for the first time in years.
When I left New York for Chicago in 2009, I put the piece aside. But in 2012, I decided to revive it for a show with Grant Wallace Band, who share my interest in surreal Americana. By then I was in a new place gender-wise, and I used my voice very differently than I had a few years earlier — so not long afterward, I decided to make a new recording of the piece, one that reflected my current way of speaking better than the 2008 recording that had been on my website for years. This version is less stentorian than the old one, with more of a raised eyebrow and a smile in it.

Listen
Alex Temple, voice and electronics
studio recording, 2013-14


This recording of The Travels of E.C. Dumonde is licensed under a Creative Commons Attribution Non-Commercial Share-Alike license. This means that you can
a) share the recording, and
b) sample, remix or otherwise transform the piece, as long as you credit Alex Temple for the original work, don't use the resulting piece commercially, and license it under the same terms.