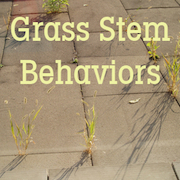 title: Grass Stem Behaviors
instrumentation: piano
duration: 7 1/2 minutes
written in: 2005-6
Grass Stem Behaviors is a free-associative take on the traditional piano repertoire. There are clear references to particular eras, composers and pieces, but they always contain small melodic and rhythmic seeds that grow into something very different: a vintage 1740s cadential figure is reharmonized, and suddenly we're in the 1820s; a Debussy-like melody gets a few wrong notes and it turns into a tango; a violently joyful dance leads seamlessly into a climax that recalls Beethoven's Hammerklavier, and then collapses into scurrying atonal canons. The piece has been performed a few times by composer-pianist Timo Andres, whose own How can I live in your world of ideas? occupies similar aesthetic territory.

Listen
Timo Andres, piano
Live at the Tenri Cultural Institute, New York, NY, 10.28.06
Recorded by Mateusz Zechowski