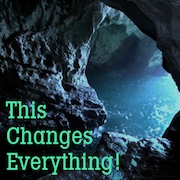 title: This Changes Everything!
instrumentation:
original version: electronic
sax version: soprano sax + electronics
duration: 6 minutes
written in:
original version: 2005, revised 2008
sax version: 2006, revised 2014
"I felt like I was under a huge fluorescent light."
–Kirsten Volness on the slow middle section
I was working on a cello duo, and I just couldn't get excited about it. At the time I was listening almost exclusively to Oingo Boingo, and it suddenly occurred to me: why am I trying to write chamber music when all I want to hear is spiky, nervy New Wave? So I sat down with some synth software — and it changed everything! The result was a genre-bendy piece that takes 80s synths, industrial drums, a Wendy Carlos fugue, a post-minimalist ending, and a big yellow buzzing ugly microtonal slow section, and squeezes them all into something resembling sonata form.
A year later, I created a new version of the piece, with a soprano sax replacing certain melodic lines and occasionally adding new layers to the texture. In 2014, I reworked it for John Seaton, who premiered the new version at the US Navy Band International Saxophone Symposium in Winchester, VA.

Listen
John Seaton, saxophone
Studio recording, 3.9.15
Recorded by Alex Inglizian

Download mp3 (original version)
Download mp3 (sax version)



This Changes Everything! is licensed under a Creative Commons Attribution Non-Commercial Share-Alike license. This means that you can
a) share the recording, and
b) sample, remix or otherwise transform the piece, as long as you credit Alex Temple for the original work and (in the case of the sax version) John Seaton for the performance, don't use the resulting piece commercially, and license it under the same terms.